It seems like a lifetime since I last set down to write a proper content post. I certainly have not done it since co-founding DashNex in 2014. But today, 15th of June, 2018 I have the Deep Thoughts music in my ears, and I'm pouring words on this page.
Now, this content piece won't be about some magical benefits of why is content marketing important and that it's the greatest thing since sliced bread and that you have to drop everything to get started with it.
No.
The goal here is to give you my perspective, so maybe, you can learn from it.
Through my experience, I want to show you…
Why content marketing is crucial for the longevity of your business,
How not doing it for all these years has hurt my business in a big way,
And finally, what I am doing now to correct my mistakes and rebuild things from the ground up.
Does it sound cool?
Awesome!
What Happened to Blogging Mechanics?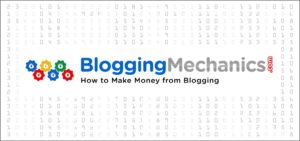 Back in 2010, I started an Internet marketing blog called – Blogging Mechanics. The idea behind this blog was to establish an authority in the niche while at the same time I was using it as a testing ground for marketing, SEO ideas, and concepts.
You see, up until that moment I was very much scattered around – I did many different things, but with Blogging Mechanics, I decided to focus.
I decided to use my entrepreneurial experience from the offline world and apply it to the online world.
And it worked.
It took me three months and around 20 blog posts to get some real traction in terms of subscribers and revenue, but the most important thing happened on the side.
Blogging Mechanics opened the doors for me to new opportunities.
Every time I started a conversion with someone in the community, Blogging Mechanics always served as a testimony that I am a real deal and not someone who expect something for nothing.
It gave me the right connections at a time to launch my information product, and within days after launching it, my business achieved the level I had not experienced online before.
Just to give you a perspective on how fast things changed for me thanks to content marketing, here is a quick story.
From $60 in The Morning to $2,000 In the Evening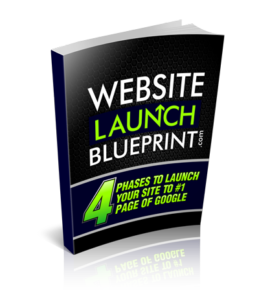 On 26th of July, 2011 I launched a product called – Website Launch Blueprint. It was a simple eBook on how to properly plan and structure a launch of a website (as the name suggests).
When I launched it in the morning, I had $60 left in my PayPal account.
24 hours later, I had sold 773 copies of my product, and I have made over $2,000 in profits (after paying affiliates and join venture partners).
Within two weeks I sold over 2,500 copies and generated nearly $30k in sales.
Now, let me put this in context so that you can see this through my eyes at a time:
During the first six months of Blogging Mechanics, I have acquired something like 700 subscribers and made a few hundred dollars through affiliate marketing.
In comparison…
Within two weeks of launching my product I got over 2,500 customers on my email list, I have made lots of money to affiliates and for my business.
So, of course, I was hooked.
I decided that product creation is my thing, so I went all in and left Blogging Mechanics behind.
Due to the success of my infoproduct, I lost the perspective of an actual value that Blogging Mechanics brought to my business, so I focused on expanding my infoproduct business, and after years of doing nothing on the blog, I just deleted it.
Why Doesn't My 1,848 Videos Count As Content Marketing?
Since my product creation business took off, each time I launched a new product I was able to acquire thousands of new customers.
Within two years I created over 50 products and sold over 40,000 copies. All those sales were generated through join venture and affiliate partnerships.
I did absolutely no external content marketing.
But it doesn't mean I didn't create content at all.
It's just that my focus was purely on creating content for my existing customers and not to bring new subscribers and customers into my business.
Now, to give you a perspective of my work, here are screenshots from 3 video hosting platforms that I use for internal videos: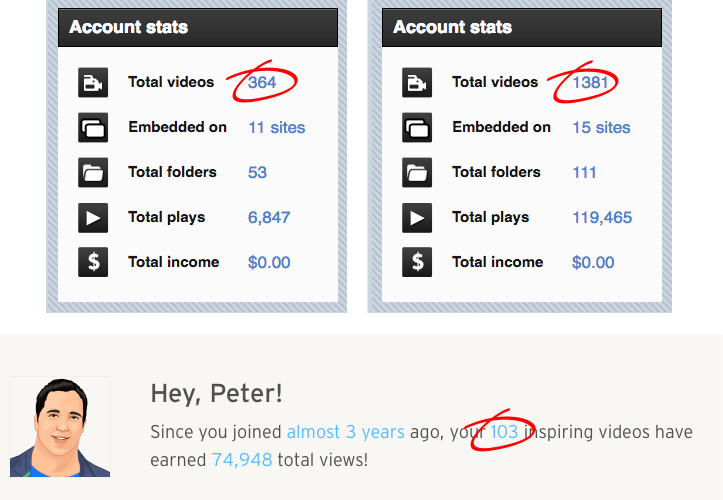 As you can see above, that's total of 1,848 videos, without even counting 3 YouTube channels where I have posted a dozen unlisted videos for my customers and subscribers.
My content creation event doesn't stop there.
On top of all those videos, I have also done over 500 webinars and wrote and sent gazillion emails.
The problem is that none of that matters today.
With the exception of a few auto-webinars, none of this content is bringing me new leads and customers today, and with days, months and years going by, it all becomes obsolete.
Just think about this:
What could have happened if, for every five internal videos, I would have posted a high-quality content video on YouTube?
That would be like 370 content videos, all generating organic traffic to my websites and bringing new subscribers and customers for my business.
And what could have happened if I would have kept the Blogging Mechanics blog and published two well researched and optimized content posts per month (just two posts!!!)?
That would be over 150 content pieces working on a complete auto-pilot for me.
But I didn't do those things.
When I look back, I can see how minimal extra effort that would have required from me, since I did so much content creation anyway. Incredible!!!
Now, speaking about the impact of a content marketing, let me share with you…
A Little Case Study That Shocked Me Just A Few Weeks Ago
As I mentioned earlier, one of the significant benefits of Blogging Mechanics was that it gave me the platform for testing new marketing and SEO ideas that I could use to create high-value products for my customers.
Now, in early 2013 I did a LIVE training webinar for my customers, and during that webinar, I launched a new website in the weight loss and fitness niche.
One thing to note here is that I didn't have any intention to make money directly from the site. It was purely to test ideas, concepts, and technology that DashNex was building, so we can sell more of it.
Now, one of the first things I did was to establish a content creation system for that site.
I created a Trello board with 5 step process on how to turn an idea to a fully optimized content piece on my weight loss & fitness website.
This system involved me as a keyword researcher, a few writers who were thought to write content in a specific way (I was teaching that method to my customers as well – it's was massively effective), and my designer who was making sure that the post looks decent on the site.
Once I established this system, I let it run for quite some time.
I spent a few hundred dollars a week to pay for the work my team was doing, and I just used the results to sell more of the software products DashNex was developing at a time.
We stopped doing anything on that site in 2015. I just kept it live, so I paid for hosting and domain.
Now it's 2018.
A few weeks ago I logged into the Ahrefs, which is the best SEO analytics platform available today, and I started to play around with various tools there.
One of the tools they have is Site Explorer, and out of curiosity, I plugged in my weight loss/fitness site.
What I saw was just WOW!!!!
Not only this site is ranking for 3,200 keywords in the US alone, but it ranks on the first spot for some very powerful keywords, bringing a few thousand visitors to those pages every single month.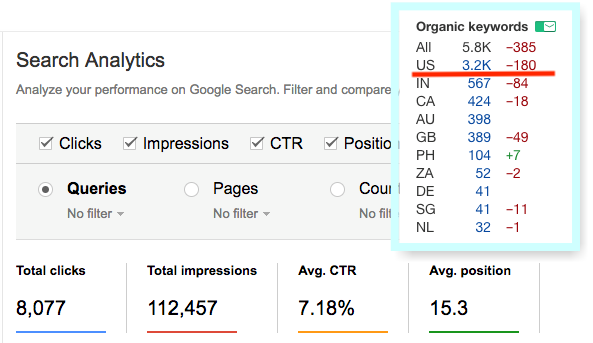 Even more…
I noticed that some major sites are referencing my site and is linking to it as an authority site on the topic. Incredible!
The key to remember here is that I have not touched this site for over three years, yet the content that we created in the period from 2013-2015 is still bringing traffic.
Now, think about this…
What if I would want to focus on this site right now? Optimize it for more SEO traffic, monetize it for revenue or new subscribers.
I could, easily, because the content is already working there. It's already bringing people daily.
That's the power of content marketing over time. Once you publish it, it's there – working for you.
And that brings me back to initial mistake that I did by deleting Blogging Mechanics.
A mistake that has cost me hundreds of thousands of dollars over these years.
But It Gets Even Worse Than Losing Revenue
Up to this point we have talked about the impact of content marketing on traffic, subscribers, customers, and revenue.
Those are tangible, visible to everyone and very apparent benefits.
We also briefly touched on the side impact, which is the authority in the niche.
But there is something even more powerful – something that makes me want to scream.
It deteriorates a business. It deteriorates you.
It makes you question your capabilities and seriously doubt yourself.
And It's Painful To Talk About It
One of the best, if not the best, marketers in the world Jay Abraham once said:
"There are only three fundamental ways how to grow a business:

Increase the number of buyers – get more prospects and convert more of them to customers
Increase the average transaction value – get each customer to buy more at each purchase,
Increase the frequency of purchase for a customer."
And he is absolutely right.
I call his rules the Business Growth Equation (BGE).
There is just one thing that I want to add, and it comes from my experience:
You must practice all 3 of them at all times.
You can't afford to pick just one.
You must measure and master all three elements and execute them on a daily basis if you want to have a long-term growth for your business.
I didn't do that.
When I first launched my infoproduct business back in 2011, I accidentally got the BGE right:
I was getting new prospects/customers every single month,
I was continually improving my sales funnels, so I get better average value per transaction
I had a rich product portfolio, and I was selling it to pretty much every single customer that came into my funnels, and I also had a fantastic revenue stream from affiliate promotions.
I was doing the right thing, and for the first 2.5 years my business was growing massively – every next month was exceeding the revenue of the previous month.
But then something happened.
The market changed, my well-established join venture partnerships faded away and my ability to acquire new prospects and customers went away with that.
It cut off the 1st part of the Business Growth Equation in my business.
Yet for about a year my business was still doing great (this made me "blind" in a moment).
I continued to improve my sales funnels (2nd element of the BGE) and maximized revenue from that.
But there is a limit to it as well, so over time, it faded away just like the first one.
Now I was left with the 3rd element – I was selling more and more often to the same customers.
It stealth the growth of my business and it forced me to do a lot of restructuring to become more efficient (more about that another time – there are some incredible lessons that I will share).
But even with all of that, something else happened – it was invisible at first, but over the course of last 6-9 months it's so apparent, I can't even ignore it if I would want to.
And here it is:
For the past three years, I have sold my products to the wrong customers!
Wow! I could cry when I think about it.
You see, over the last two years, I have invested over 1 million dollars in the development of a platform that I believe is changing the game in eCommerce.
All of this is done through bootstrapping, we don't have outside investments.
But because a majority of our customers – 85-90% are wrong customers – people who generally don't take action, people who are sick with so-called 'Shiny Object Syndrom' (it's when they just buy stuff because it's new), and people who generally expect something from nothing…
…we have not gotten the feedback and results that would perpetuate the excitement and would become a tipping point for others to join.
We have lived in the bubble, and so-called feature fallacy.
We have been falsely informed (we spoke with our customers daily – in fact, I have a group of 700 users on Slack that has direct access to me).
Customers asked us features that they said prevents them from using the product on a full scale, and we listened to them.
We poured in thousands of dollars every week to deliver those features that we hoped would spark the excitement and bring the results to them.
It never happened.
The truth is that customers who were asking for new featured never had a real intention to use them. It was just another excuse.
The realization of the things that I just told you came from the blog post I read on the Appcues Blog here.
See this screenshot below: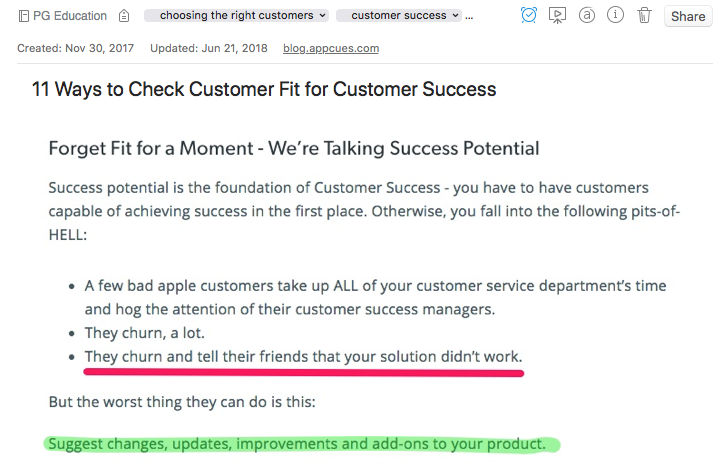 (notice the date when I took it – 11/30/2017)
As soon as I saw that, it shocked me. Finally, some of my inner conversations was staring at me from the page.
I finally allowed the truth to hit me.
And it was painful. It took me quite some time to shake off all the blame and doubts that I put on myself.
That realization that I could have prevented all of it had I focused on content marketing for last 3-4 years, made me want to give up.
But today I am excited again. I am ready to rebuild things here on the DashNex Blog.
I am ready to take things to another level.
So Why Is Content Marketing Important?
This has been a long blog post – in fact, today is 21st of June, 2018, so it has taken me a few days to get this done.
But the lessons here are priceless.
They are validated with millions of dollars over the course of last three years. And so you can count on them to be true.
The truth is that regardless of who you are, where are you from and what's your business, content marketing is something anyone can and should start right away.
Just accept the fact that it takes time to get results with it. Don't expect a million visitors after two days of publishing your post.
Be consistent. With content marketing, the results are inevitable and unbeatable.
This is why companies like HubSpot, KissMetrics, AdEspresso and thousands of others are ranking for hundreds of thousands of keywords on Google.
(In fact, HubSpot ranks for 1.9 million keywords – can you imagine!!!)
This is why you see the name – Neil Patel, almost everywhere – his website is ranking for 476,000 keywords.
And this is why DashNex is starting the journey as well.
We will regularly publish a high-quality content here on the blog.
We will launch a podcast shortly.
We will post some invaluable video lessons on YouTube.
Within next few days I will map out the content marketing plan, so we can deliver the value that DashNex possess and help more and more online entrepreneurs to achieve their objectives.
We are in the action mode! Talk soon!