Sick and tired of the long shipping and customs wait times when using dropshipping suppliers in China?
Wanna know a secret?
You don't have to use overseas dropshipping suppliers and wholesalers to run a successful dropshipping business!
Yep, it's true!
With a multitude of YouTube videos and articles out there showing beginners how to get into dropshipping, you'd be forgiven for thinking that AliExpress or a similar Chinese-based alternative is your only choice.
While this avenue certainly has a multitude of benefits, it also comes with a myriad of potential pitfalls too.
Most notably, dropshippers often find themselves coming up against shipping issues when it comes to working with international suppliers.
But that's not the only reason you should consider working with a domestic dropshipping supplier…
Why Use A US-Based Dropshipper?
The U.S. is home to a number of great product suppliers and manufacturers that offer dropshipping services. 
When you first start, it might seem that buying products from other countries like Asia is your best option (and it could well be the case).
But, before you head down that road, it's worth reviewing some other options that are closer to home. To help you consider a domestic supplier as a viable choice for your business here are some benefits to consider.
Related: 8 Keys To Choosing The Right Dropshipper
1. Fast Shipping
Generally, it can take 2 – 4 weeks for international dropshipping products to reach your customers. Now, while some consumers may be happy to wait, that can't be said for everyone.
A slow delivery time can lead to an unpleasant customer experience and poor reviews which can have adverse effects on your reputation. What's more, potential customers could be scared off by the long shipping times in the first place.
Working with a U.S domestic dropshipping supplier will guarantee faster shipping (for U.S. customers).
The standard delivery time within the US is generally between 1-3 days; a time frame that is very appealing to the consumer. Fast shipping leads to greater customer satisfaction and helps to build trust between you and your customer.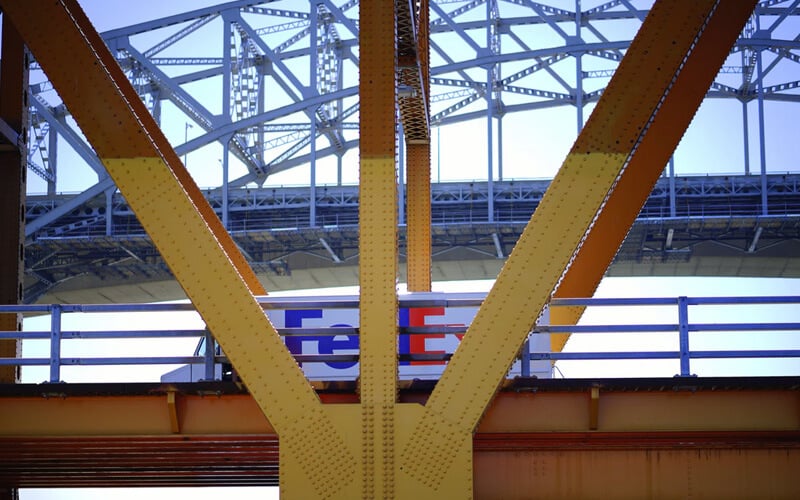 2. Wider Range of Shipping Options
There are a number of delivery options available to customers in the U.S. For instance, customers can choose next-day, second-day, third-day or even same-day delivery.
Of course, faster delivery will be more expensive, but this choice is left in the hands of customers.
3. Higher Quality
When it comes to distinguishing both your brand and product from your competition, quality is key. Fortunately, opting for an American domestic dropshipping supplier will enable you to provide high-quality products.
That said, quality is not cheap.
So, if you want to champion quality, you must be willing to pay for the cost of labor and materials required to produce the products domestically. But, look on the bright side, a higher quality product will justify a higher price tag, which means your profit margins remain the same, or better than when you buy from an international supplier.
Here's the thing, people want quality –– and they're prepared to pay for it, too.
Customers are more willing to accept a higher price when they get what they're paying for.
While using products through an international supplier is a tempting and cost-effective option, the quality can sometimes leave something to be desired.
4. Higher Retail Prices
As touched upon above, a higher quality product warrants a higher price tag.
Generally, the consumer is okay with paying more if they know that the product is both high quality and American made. This means that while the products may be more expensive to produce, the ability to charge more will allow you to maintain your profit margin. 
5. "Made In USA"
This might not seem like a big deal, but the ability to claim that your products are "made in USA" can be a major selling point among customers. To the consumer, this label acts as a 'seal of approval' that shows that your business supports locally-made products. A consumer is more likely to endorse a product that was made in their country because it feels more authentic and somewhat individualized, as opposed to a mass-produced quality that some foreign products can evoke. 
6. Better Communication
Dealing with domestic dropshipping supplier in the same country as you inevitably leads to better communication. With no language barrier and minimal time difference, the communication you will have with domestic dropshipping supplier will lead to more effective and efficient interactions and transactions.
This can be invaluable when it comes to dispute resolution too, and when it comes to business, figuring out a solution quickly and easily is an absolute priority.
7. Customer Satisfaction
Using a U.S.-based supplier can lead to greater customer satisfaction for a number of reasons.
Just think about all the factors that contribute to a great customer experience: fast shipping, great quality products, and the ability to easily contact someone if an issue arises. Using a U.S. dropshipper has all of these bases covered. 
When dealing with a business inside the US, the customer knows where the product is coming from and can easily track the status of their order. This means that if something should happen to their order, they trust that the problem will be resolved quickly.
8. Point of Difference
It appears that fewer dropshipping businesses choose to travel down the domestic route, but this isn't a bad thing.
In this case, the less-popular route could actually help your business establish a clear point of difference. Even at a higher price-point, consumers tend to favor products that are not only higher quality but support local trade. 
Related: 8 Keys To Finding The Right Dropshipping Supplier
How To Find Dropshipping Suppliers In The US
There are a number of ways to source a US-based dropshipping supplier. Check out this article for more on how to find them and what to look out for.
To help here are a few US-based options for you to review:
Oberlo
While technically not a dropshipping wholesaler in its own right, Oberlo acts as a marketplace that allows you to easily find products to sell online.
Through Oberlo, you have access to a range of products including electronics, toys and cosmetics. 
More of a directory than a direct supplier, Oberlo helps you connect with the supplier that stocks the products you want to sell on your online store. Additionally, you can use Oberlo to sell your products in your online store, through social media and through other online marketplaces. 
An important thing to note about Oberlo is that it can only be used with Shopify, so it's not always the best option if you're using another eCommerce platform like Dashnex Pages or Instant Ecom Store.
With Instant Ecom Store, you can use our xOmator Chrome Extension for one-click product importing.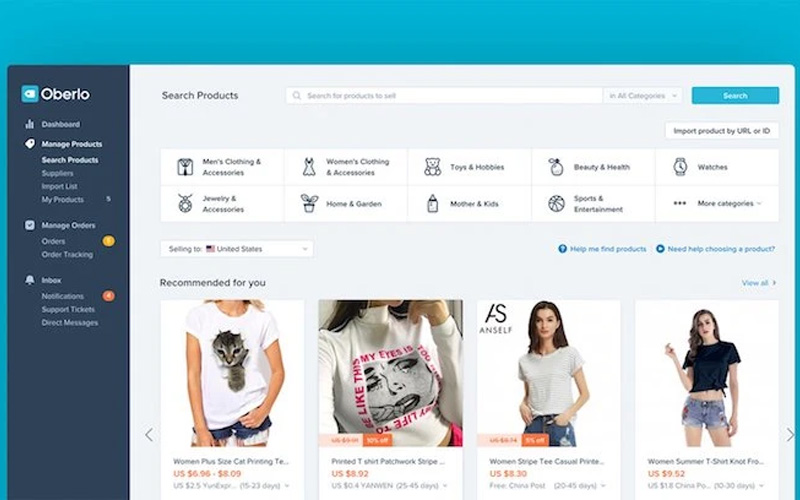 Pet Stores USA
As the name suggests this company deals with pet merchandise. With over 40 years of experience, Pet Stores USA is considered to be the leading supplier of dropshipping services for the pet industry. 
Through Pet Stores USA you will have access to over 2500 items from brands such as Bergan, Eyenimal and Petsafe. 
Also this dropshipper is a wholesaler, it's important to note that this company only deals with registered retailers. 
Koehler Home Décor
Koehler Home Décor supplies a range of furniture items from garden décor, gifts and lanterns. The dropshipping services offered through this US-based supplier are generally self-service and can be placed online.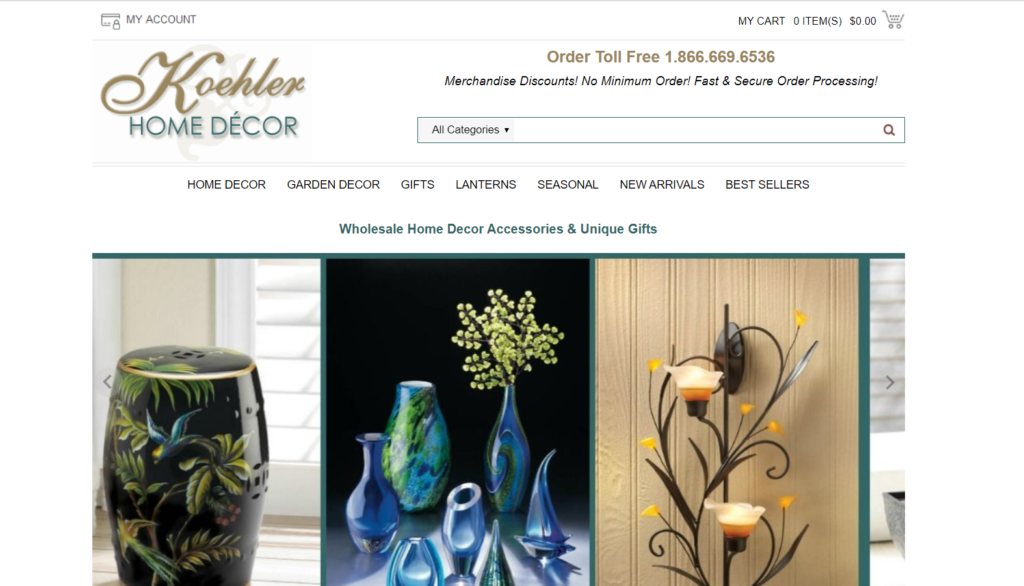 Worldwide Brands
This US-based company is a dropshipper database, meaning they're not wholesale suppliers but service providers. Worldwide Brands places an emphasis on locating authentic wholesale suppliers and ensures that the suppliers are willing to sell their merchandise to online retailers. 
Doba
Based in Utah, Doba sources its products from the suppliers it works with. As Doba is constantly updating its catalog with new merchandise, there are a variety of products to consider. Offering one of the largest inventories, Doba aggregates over 2 million products from over 200 suppliers.
The products available range from apparel, jewelry, electronics, furniture and much more. 
After you've found the products you want, Doba allows you to export the products through a range of formats. This benefit allows you to add a large number of products to your website or marketplace at one time; as opposed to manually uploading the products.
Furthermore, through Doba you can create inventory notifications to inform you when stock is low. As well as this, there are also a number of tools available that will allow you to evaluate the performance of products.
Sunrise Wholesale
This dropshipping company deals with a range of products from leading brands such as Canon, Apple and JVC. 
Sunrise Wholesale allows you to export your products to eBay and Amazon. Unlike Oberlo, you can use this platform with any ecommerce store, such as Dashnex's Instant eCom Store.  
You can browse Sunrise Wholesale's dynamic inventory without a membership, which allows you to decide whether the products they offer are well-suited to your business.