First things first…
What is Drop-Shipping?
We're guessing if you're here, before understanding about the best dropshipping supplier, you'll know what dropshipping is.
Let's start with the basics!
If you're unfamiliar with the phrase, drop-shipping is an e-commerce retail fulfillment method that allows you to sell products without stocking an inventory or dealing with shipping and handling.
As such, when a product is sold using the dropshipping method, the item is directly shipped to the customer from a third-party "dropshipping" supplier or wholesaler.
Dropshipping vs Traditional Commerce
So, what is the difference between dropshipping and standard retail fulfillment? The difference lies in who houses the stock.
Dropshippers do not hold any stock. Rather, to fill orders, the selling merchant will purchase inventory from a third-party, which in most cases is a separate wholesaler or manufacturer.
Simply, the dropshipping model works in four steps.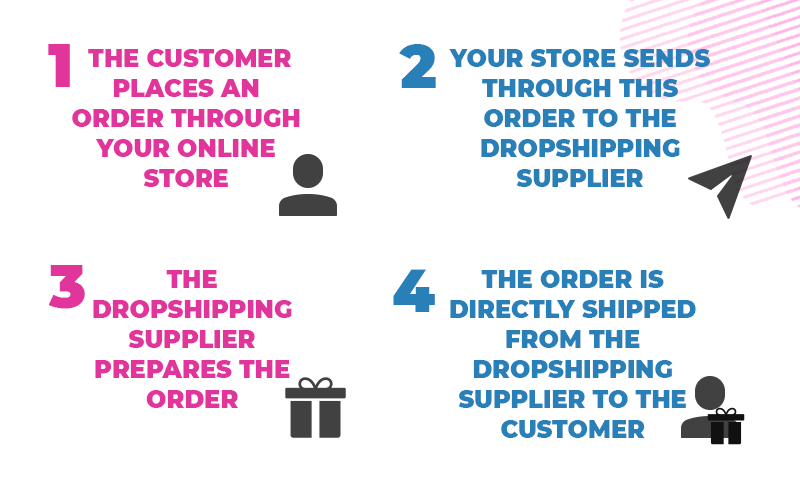 First Step: the customer places an order through your online store.
Second Step: your store sends through this order to the dropshipping supplier.
Third Step: the dropshipping supplier prepares the order.
Fourth Step: the order is directly shipped from the dropshipping supplier to the customer.
This business model is considered a highly accessible option for both small retailers and aspiring entrepreneurs. All this is because through this method, it's possible to launch your e-commerce without immediately investing thousands by purchasing inventory.
Furthermore, as you don't have to worry about managing pre-purchased stock or managing a warehouse, your overhead costs will be lower than traditional brick-and-mortar businesses.
In 2017, 23% of online sales were filled by dropshipping, equating to around $85.1 billion. As e-commerce continues to grow by approximately 17% per year, it's estimated that the popularity of the dropshipping model will only continue to increase. 
The Dropshipper's Conundrum
Starting a dropshipping business might sound incredible on paper. There are various drospshipping mistakes that dropshippers often come across and costs them thousands in sales. Ultimately, the reason dropshipping is desirable is the very reason it is undeniable: you're working with third party suppliers.
Generally, suppliers are used to working with the dropshipping model and a great at fulfilling orders. But, in all cases, you're at the mercy of the operating practices of your supplier. You have no control over the quality of the items, nor do you have any say in how long items take to get to your customers.
It is for that very reason that choosing your dropshipping supplier is a task that shouldn't be taken lightly.
Wait, what? Alibaba isn't the only way?
Choosing The Right Dropshipping Supplier/Wholesaler For Your Business
Undeniably, a crucial part of any dropshipping business model is selecting the right dropshipping supplier. There are a number of factors that must be taken into consideration when deciding which dropshipping supplier is best for your company.
1. Reviews
Once you know the types of products you would like to sell, it's important to not only research what dropshipping options are available but also determine which dropshipping supplier will best suit your needs.
This means you'll have to dig a little deeper than just checking out the products that they sell.
To determine if a supplier is right for you, search for reviews online and read about the experience other dropshippers have had with them. Obviously all reviews have extreme positive and extreme negatives. So make sure you look at the average reviews and check for any recurring themes.
Pay particular attention to mentions of product quality, customer service and fulfillment issues.
2. Communication with Dropshipping Supplier
When communicating with a prospective supplier you should pay close attention to how they communicate with you. This means when you reach out to a supplier ask yourself: are they responding in a prompt and professional manner? Do they effectively answer your questions?
Often when you're dealing with suppliers in non-English speaking countries, you may come across some issues with communication.
While many suppliers, especially in China, are well-versed in communicating in English. Sometimes the language barrier may be too difficult to overcome. If it's difficult in the initial stages, it may be impossible as you try to grow your business.
3. Shipping Cost and Time of a Dropshipping Supplier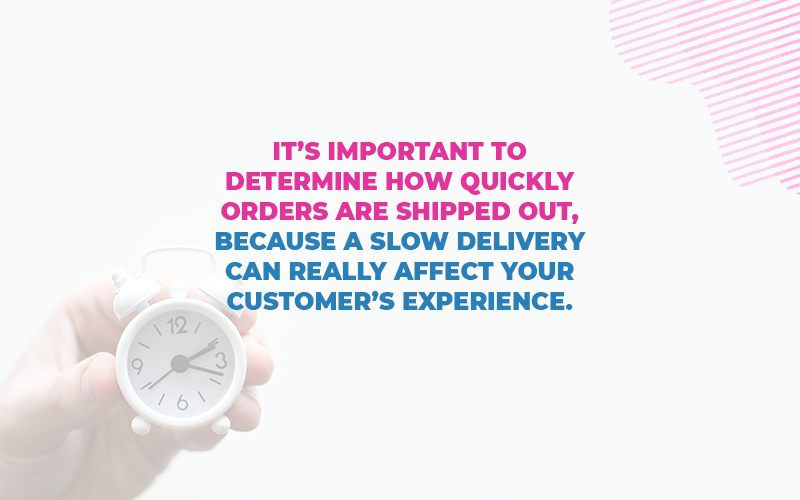 If you are relying on a dropshipper to fulfill orders then you will want to have a clear idea of both the shipping cost and delivery time. It's important to determine how quickly orders are shipped out, because a slow delivery can really affect your customer's experience.
Also, you will want to know what shipping options your supplier can supply. For instance, if the supplier offers same-day and overnight delivery then you will be able to pass this benefit on to the customer. 
Deliveries from suppliers outside of the country you're shipping to, namely Chinese suppliers, between long shipping times and awaiting packages to clear customs, items can take weeks to reach your customers. Although this isn't a major dealbreaker, it can put customers off buying altogether.
If you do opt for a Chinese supplier such as AliExpress, you just need to make sure you make shipping times clear on your website.
4. Inventory Turn-Around Time
If the supplier also manufactures the products, you should determine their production capacity; that is, how much product they can produce at one time. 
As your business grows and the demand for your product increases you want to assure that your supplier can accommodate this growth. To support the sustainability of your business, you need to guarantee that your supplier can effectively meet demands in a timely fashion.
5. Additional Fees
To avoid any hidden or surprise costs, you need to know if your supplier charges a dropshipping fee and if so, what is it. Also, figure out if there are any other additional fees.
Equipping yourself with all this information from the beginning will help you to avoid an uncomfortable situation later on. 
6. Refund Policies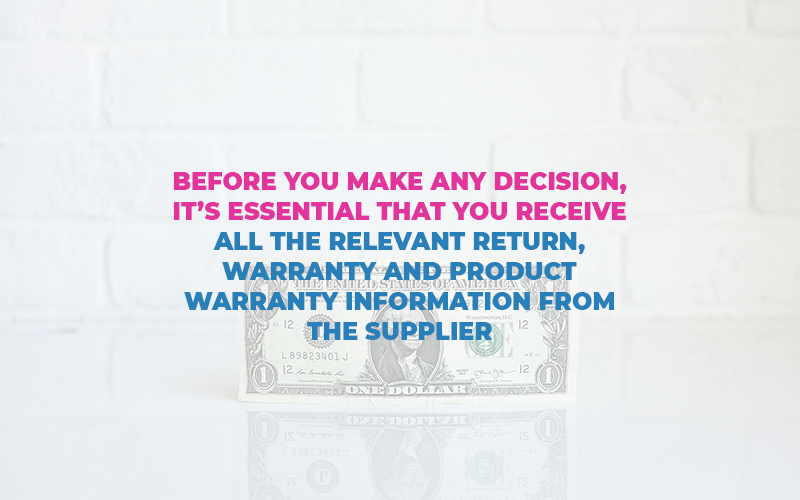 Before you make any decision, it's essential that you receive all the relevant return, warranty and product warranty information from the supplier. In the event where products are faulty, you will want to ensure that you are not held fully accountable.  
7. Domestic or International?
When selecting your supplier, one of the major decisions you will face is whether to choose an international or domestic supplier. International suppliers are a popular choice among up-and-coming dropshipping businesses as the cost is generally lower than domestic options. This low cost is majorly contributed to the cheap production costs.
8. Order Samples
There's no better way to find out how good (or bad!) a supplier and their products are than actually ordering a product and having it shipped to yourself. And while you may feel that this is an unnecessary expense while you're starting your business, doing this could actually save you potential headaches down the track.
BUT HOW DO YOU FIND THEM?
Knowing what to look for in suppliers is one thing. Knowing HOW to actually find them in the first place is another entirely.
Here are a few places you can start your search…
Directories
One of the easiest ways to find dropshipping suppliers is by using dropshipping supplier directories.
These directories are essentially platforms that provide a communication channel between you and hundreds of dropshipping suppliers. Salehoo, Doba and Wholesale Central are among the most popular directory sites.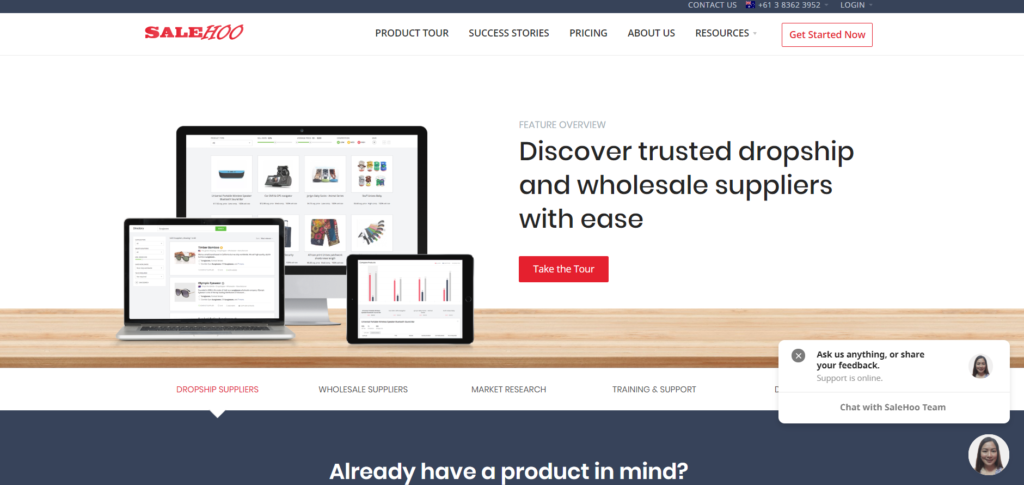 AliExpress
So many people getting into dropshipping use AliExpress for one simple reason. It's SO easy to get your dropshipping business up and running in no time at all.
Think of AliExpress as a combination between a dropshipping network and eBay. Essentially, third party suppliers list their products on the platform. This allows you to easily browse the products available and simply buy them and ship them to your customer. All this is done without much interaction with the supplier themselves.
There are a number of pros and cons to using AliExpress though. On the negative side, long shipping times (due to most suppliers being based in China) and the vast number of suppliers to vet are sometimes issues.
Although AliExpress does it best to ensure they only work with trustworthy suppliers. You should still take care to make sure you choose the right one. Luckily, AliExpress allows users to rate suppliers so finding one with a feedback score of over 95% will ensure you're choosing the top tier of suppliers.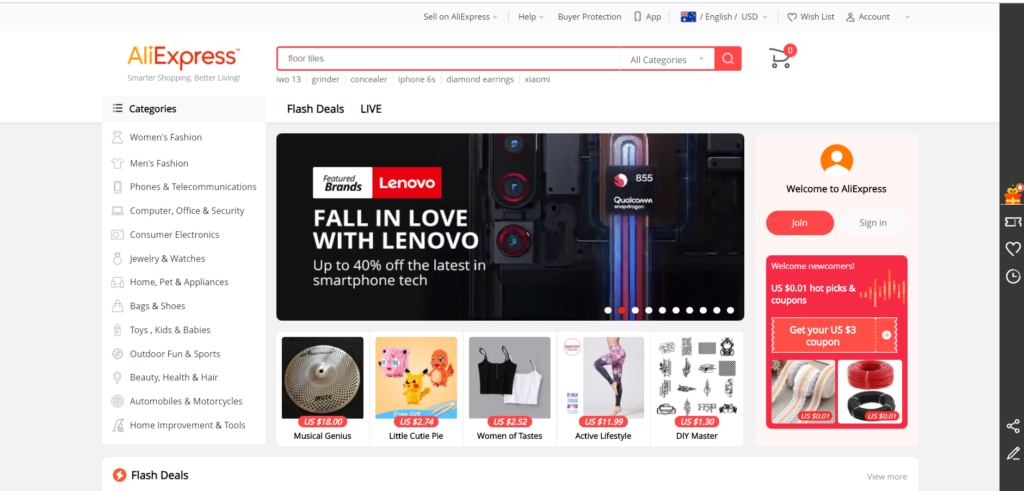 Contact Manufacturers
You don't just need to rely on databases of products or suppliers though. If you know which product you'd like to dropship, you can contact the manufacturer to discuss your options when it comes to dropshipping.
Now, of course, not all manufacturers will be happy to engage with you with the dropshipping model. Especially if they deal with their customers on a wholesale basis. But it never hurts to ask.
If you do use suppliers who are new to dropshipping though, checking off the 8 things above is more important than ever!
Do Your Research
A simple Google search for dropshipping suppliers is usually all it takes to give you a list of suppliers in your niche. Here are some things to watch out for when looking for suppliers this way:
Don't judge a book by its cover: dropshipping suppliers rarely have great looking websites but that doesn't mean they aren't a good option.
You really have to search: unless you come across a resource that has done all the hard work for you, you'll generally have to search pretty hard to find what you're looking for. Why? Because wholesalers aren't great at promoting themselves online!
Make sure you search within your niche: although there are many directory-type sites you many come across, using search terms within your niche, like "health product wholesaler" may give you some extra search juice!
The Takeaway
There are thousands of wholesalers globally that you can use to provide products for your dropshipping business. But not all are created equal.
Pick the right one and your business could boom.
Choose poorly and you may be done before you've really begun.
Good luck, dropshippers!