Have you reached here while searching for the Shopify alternatives? If yes, then you are in the right place.
Shopify, the most popular hosted eCommerce platform on the market, is famous for a reason. 
Being beginner-friendly, it's very easy to use. All that you need is a setup, and you are ready to start selling products online through this platform.
Shopify is the perfect tool for building an online eCommerce business. It does not need any technical skills for its usage. Though it is the best, everyone does not prefer it. So, for those who are looking for Shopify alternatives, we are listing here some for them. 
But before that, lets us first take a look at the pros and cons of Shopify.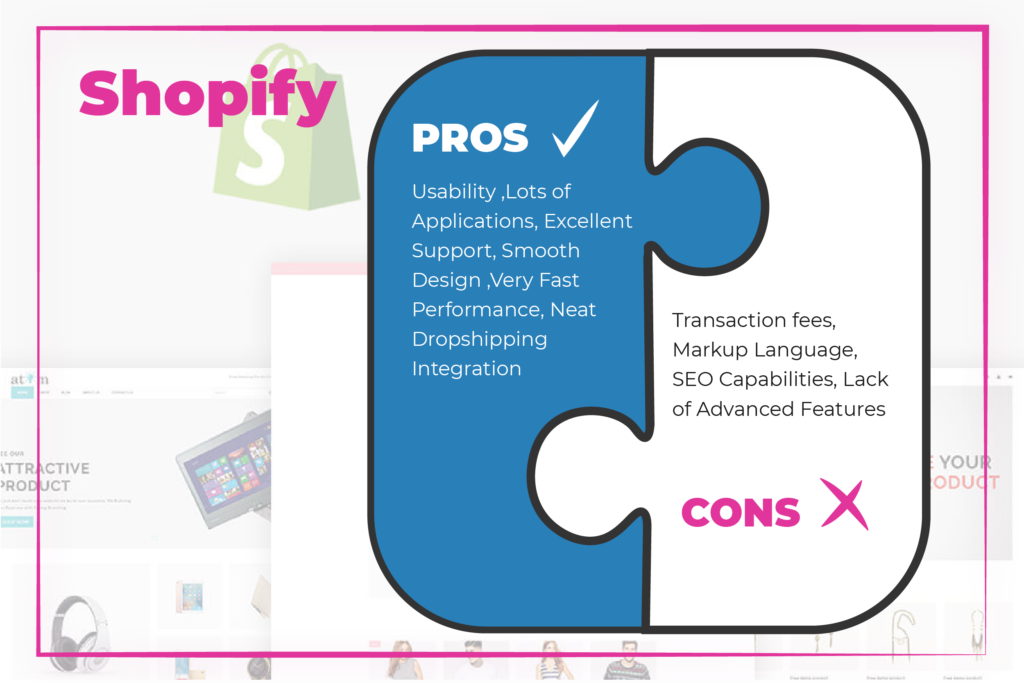 Shopify Pros
Shopify is well-known in the eCommerce space, particularly for its ease of use. It resembles WordPress in some respects and looks great using free themes. It also has lots of private themes that you can purchase. Moreover, a professional can also edit it for a really top class design. This platform is great for beginners. You can also customize it for a professional feel. The primary Shopify benefits include:
Usability

Lots of Applications 

Excellent Support

Smooth Design

Very Fast Performance

Neat Dropshipping Integration 
However, there are several issues with this eCommerce platform. So depending on business preferences, one looks for various Shopify alternatives. 
Shopify Cons
Despite all its benefits, advanced online retailers and dropshippers look for a more sophisticated platform. It lacks some of the more advanced reporting and SEO features. These are necessary to scale a business and take it to the next level. The main disadvantages of Shopify include:
Transaction fees

– A 2% fee per transaction will be applied unless you use the Shopify in-house payment processor. This is the most common disadvantage. 

Markup Language

– Known as 'Liquid' and built using Ruby, this is not the easiest or most flexible markup language available. It's hard to edit. 

SEO Capabilities

– Shopify is not the best eCommerce platform when it comes to SEO rank. This is due to its limitation of large sites and its insistence on the usage of rigid iFrames. 

Lack of Advanced Features

– Some features are only available at the high-tiered plans. If you need a lot of extra functionality, Shopify may not be for you. 
With this in mind, we've suggested some of the best Shopify Alternatives here. Those looking to take their online campaigns to the next level can use these tools. Moreover, these are also beneficial for those who are looking to start out with a more well-rounded platform. 
Shopify Alternative #1 – WooCommerce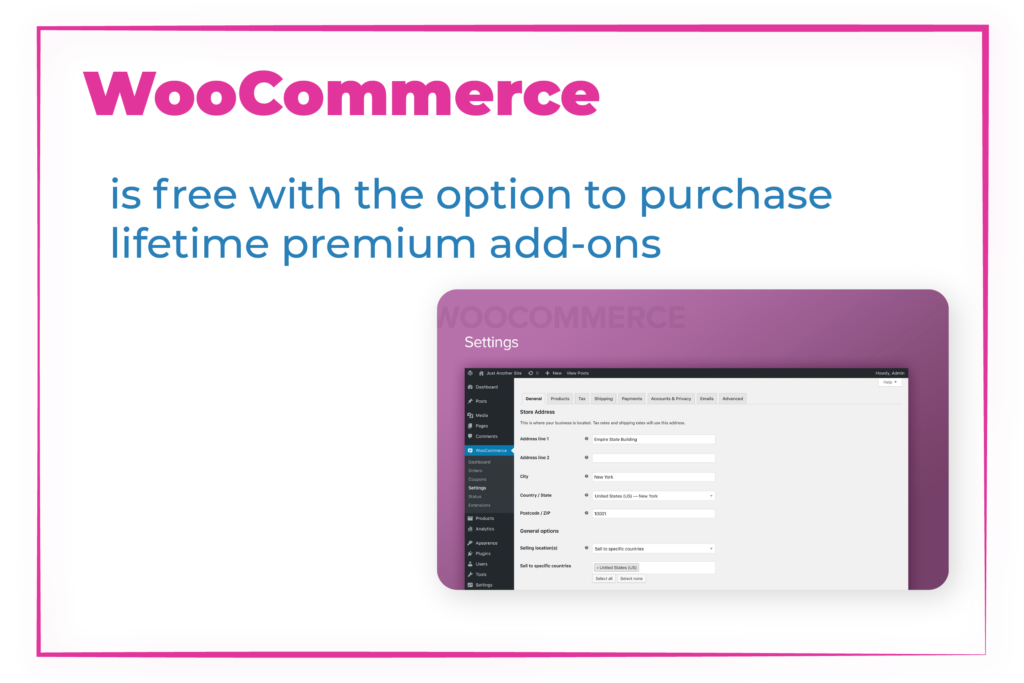 WooCommerce is completely free and integrates with WordPress. This most popular web hosting platform, WordPress is used by over 36% of all websites. WooCommerce is itself a subcategory of WordPress and integrates seamlessly with it.
Having a blog alongside an eCommerce platform is invariably more effective than just having the store alone. Both Shopify and WooCommerce are similar in the sense that they are easy to set up quickly with great basic themes. It's the advanced functionality that arises the difference. 
Differences
A primary difference between WooCommerce and Shopify is that Shopify requires a monthly subscription. While WooCommerce is free with the option to purchase lifetime premium add-ons. An example would be WooCommerce FreshDesk, which retails at $79 and allows a ticketing system for customer feedback. Unlike Shopify, there are no additional transaction fees with WooCommerce. 

Another difference is that WooCommerce is a

non-hosted solution.

This can be a big issue. Should your site experience a glitch of any kind, be prepared for WooCommerce to blame the hosting provider. Your hosting provider will blame the theme used on the site. You will likely need to have your own developer to work out these wrinkles as they arise. 
WooCommerce is an ideal Shopify Alternative in the sense that you can set up a basic site, and then select only the plugins that you need. This could suit niche sites with specific requirements. 
In simple words, WooCommerce has more customization options. It allows more room for developers to tap into the underlying code to give you the site you want.
It also allows you to run a WordPress blog on the side, which could work wonderfully with the online store. For beginners looking to get set up quickly with basic functionality and to just flat out sell, Shopify is preferable. 
Shopify Alternative #2- BigCommerce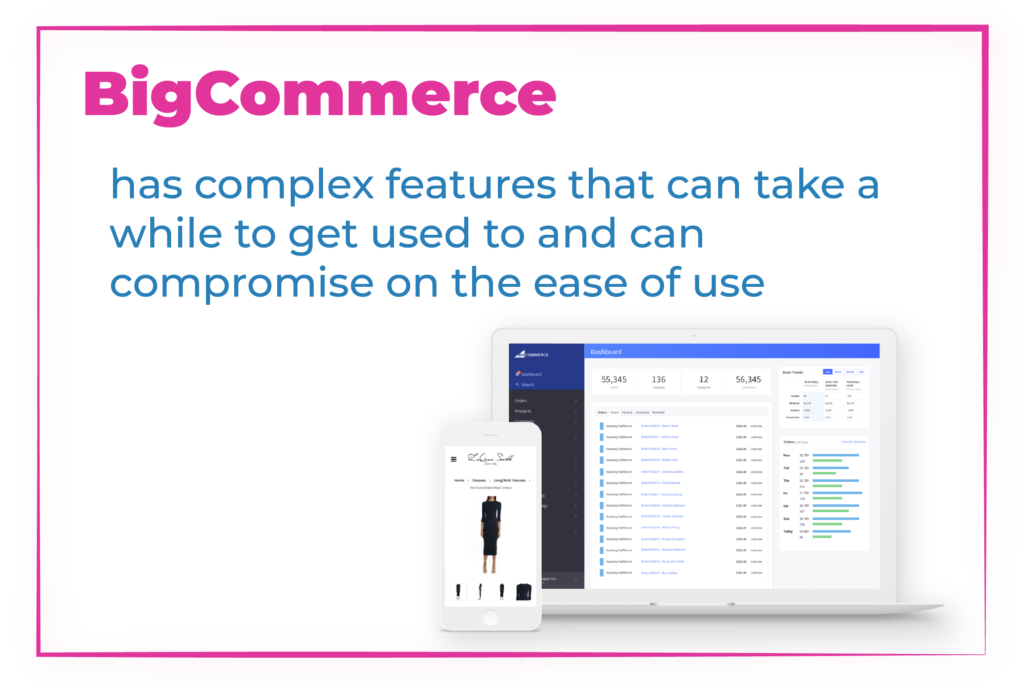 When it comes to straight sales, few eCommerce providers are more efficient than BigCommerce. It has a variety of plugins to optimize web sales while users are browsing the store. It also offers exceptional multi-channel integration along with advanced SEO analysis features to truly optimize sales. 
This eCommerce store will suit large businesses that are looking to make it into the big league, with advanced selling tools. It's hyper scalable, with incredible SEO options, and comes with more built-in features than any other competitor.  
So, what's the catch?
BigCommerce for Large Scale Businesses
Well, this is a platform that is not really suitable for beginners. Shopify, WooCommerce, DashNex, and other solutions. These have a much softer learning curve to get an online store up and running without any glitches. With BigCommerce, the complex features can take a while to get used to and can compromise on the ease of use. 
Usability is one of the largest pitfalls of BigCommerce. The design interface is just not as intuitive. The store is split between two areas – the storefront and the inventory section. It is not laid out most naturally. But if you have grown beyond Shopify or are looking to take an online business to the next level, then you won't grow tired of Bigcommerce any time soon. It's a big platform for businesses with ambitious ideas. 
Price-wise, BigCommerce is very affordable. The 4 price plans for the Essentials package range from $29.95 – $299.95 per month, depending on business needs, with free trials available on all plans. It all comes with a blog, advanced reporting features, and mobile applications. Point of Sale and sales channels are also there. These include eBay, Amazon, Facebook, and Instagram. 
BigCommerce has no transaction fees, much like WooCommerce. For the powerful reporting tools and sales plugins, BigCommerce is very reasonably priced. It has all that you need. To sum up, BigCommerce is a perfect Shopify Alternative for businesses that are looking to scale and sell fast. It is not for beginner store managers, freelancers, or solopreneurs who are not tech-savvy. 
Shopify Alternative #3 – Square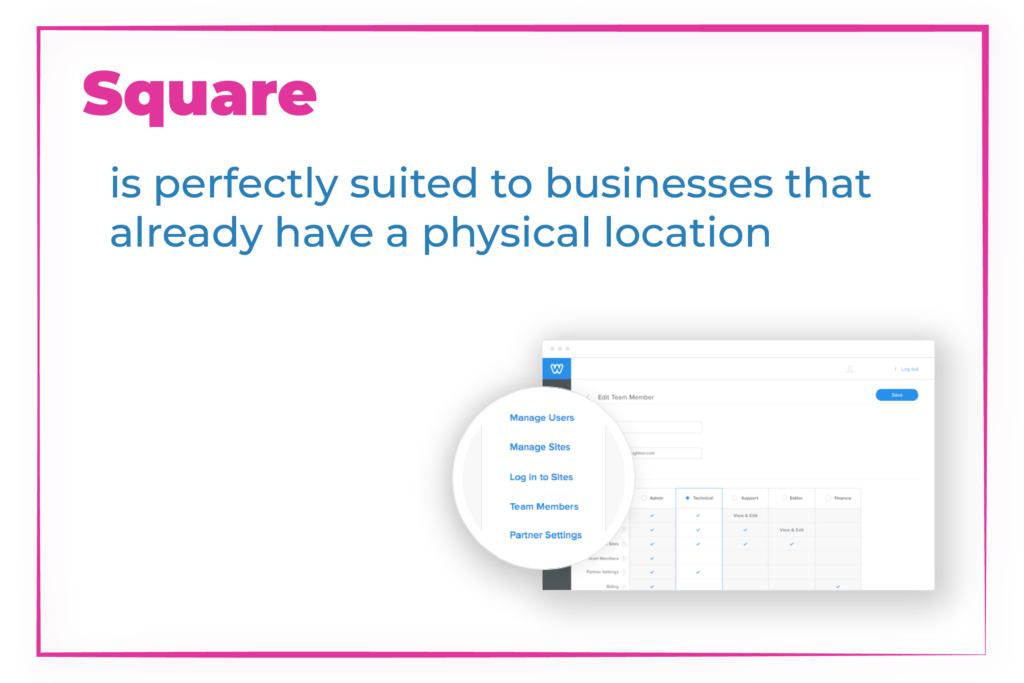 Square is perfectly suited to businesses that already have a physical location. Sales are neatly integrated into one dashboard, and both online and in-person payments are easily managed. This is why Square is often featured as a payment method in physical retail outlets. Employees can even get paid from within the platform. 
Square will assist you in expanding your business presence. Like Shopify, the learning curve is practically flat. It's just so easy to use. Square acquired Weebly in 2018, and Weebly was designed with the complete novice in mind as a Drag and Drop web builder. With all the available themes, your website will look amazing even without prior expertise in design. Weebly is compatible with a huge number of third-party applications. 
So when you are designing your store, you will be redirected to Weebly to create a website. Weebly is possibly the easiest site builder on the market. Square is best described as a Point of Sale ('POS') technology that allows for easy payments. It has an excellent inventory management system and accepts a wide variety of payment mechanisms. 
Square For Small Businesses
Small business owners running a niche coffee shop or an alternative clothes outlet could do very well by using Square and building a smooth site on Wiz. It's easy, cheap, and will provide customers will a really novel experience. It will also help to manage payroll and inventory for your current shop. No technical knowledge is required and you could well be up and running within the hour. 
The Square application is free to download. Square for retail outlets costs $60, and the first magstripe card reader is free with a $10 charge thereafter. Square marketing costs $15 per month while the eCommerce options retail at $8 per month. 
Keep in mind that Square is not the strongest eCommerce or SEO solution on the market. The number of applications is limited.  It's basically a Point of Sale technology with the opportunity to create a website for your goods and services at the same time. But for small businesses with a physical presence, Square is a necessary integration and perfect Shopify Alternative that will boost sales and customer experience.  
Shopify Alternative #4 – Volusion 
Volusion is a British provider Shopify Alternative that is orientated towards small businesses and solopreneurs without advanced technical skills. It is similar to Shopify in many ways.
Volusion is easy to set up, simple to add products, one-page checkout, and a variety of neat themes are on offer. Unlike Shopify, Volusion has no transaction fees. It's also one of the best options, with a basic package of $26 per month, suitable for businesses earning up to $50,000 a month or so.
However, the low price itself comes at a cost. Volusion is not as fast as many of its competitors, taking a while to load. A slow page loading time can have disastrous implications for bounce and conversion rates. Volusion only works with 30 payment processors, while most of its competitors offer 70+ (though this may not be a major concern, as all the big payment processors are there). In addition, Volusion has no integrated CMS for a blog. This is one of the biggest disadvantages of Volusion. 
Why Volusion?
So, why would anybody choose Volusion as a Shopify Alternative? There is little difference between the two. However, Volusion doesn't charge any transaction fees, an issue commonly cited by Shopify reviewers as problematic. Volusion charges $26 a month for the basic package, while Shopify charges $29, so it's a little cheaper. Both offer excellent design themes. 
Volusion is perfectly suited for subscription-based businesses, but lacks a little for eCommerce stores and drop shipping enterprises. In general, small-medium businesses could go with either Shopify or Volusion, as there is little difference between the two. Both platforms are easy to use and charge a reasonable price for entry-level online entrepreneurs. 
Another thing to remember is that Volusion has been rapidly updating its features and pricing mechanisms in recent months. Many online reviews do not reflect these updates. 
Shopify Alternative #5 -DashNex PowerTech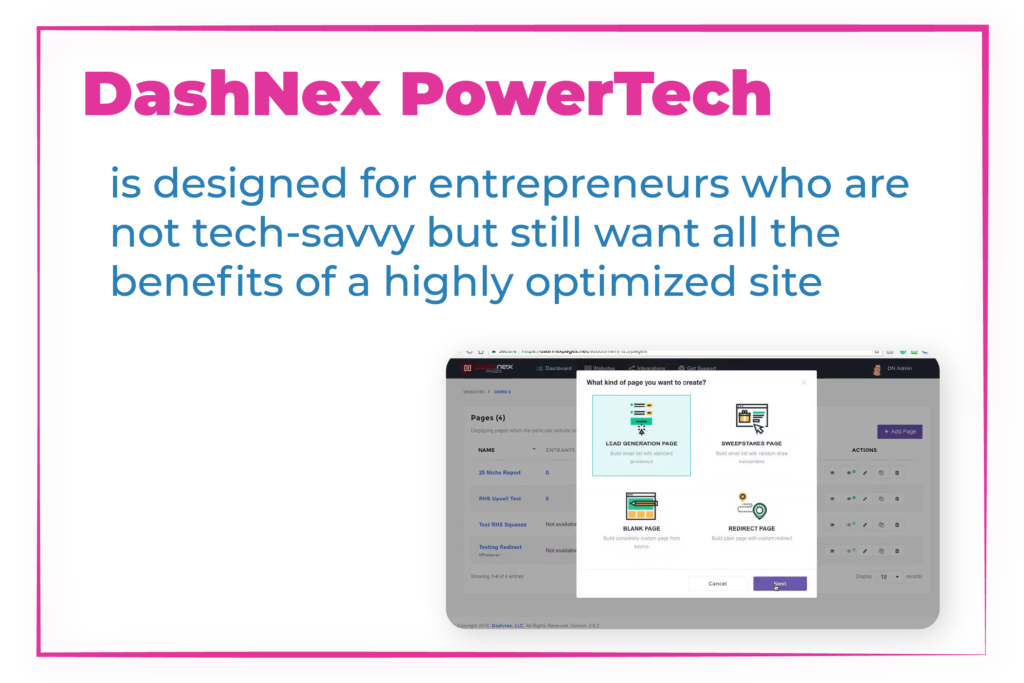 Founded in 2011, DashNex offers eCommerce solutions for marketers, small businesses, freelancers, and solopreneurs. The company runs with a freelance ethos. The main aim is to provide that skills and the technical infrastructure to aspiring online entrepreneurs. All this helps in bringing their dreams to fruition. 
The DashNex PowerTech Platform is designed for entrepreneurs who are not tech-savvy but still want all the benefits of a highly optimized site. No more time is wasted with plugins and third-party solutions to increase sales. All premium features are included in the bundle with no requirement of tweaking or maintenance.  
In other words, DashNex is the best Shopify Alternative that does not upsell you with content and add-ons. You get everything easily. Not only does this save you money – it saves you time otherwise wasted in comparing and contrasting all of the plugins and tools to figure out which ones are best. Most eCommerce solutions are designed to hook you in with basic package and withhold 'special' features. 
Dashnex For Small Business Enterprises
When all is said and done, speed and simplicity are at the core of an online model. DashNex PowerTech consists of an Instant Ecom Store and DashNex pages, a website builder, both built on the Amazon Cloud infrastructure. Automatic hosting, backups, security, and updates are also there.
Unlike Shopify, there are no transaction fees with DashNex, and no complicated pricing plans. DashNex takes care of the hosting and maintenance, unlike some of the other competitors. 
The PowerTech platform is currently available for $17 with a one-time special offer, including a 30-day 100% money-back trial period.  This price will not be around for long as the platform grows its userbase. 
DashNex offers an efficient infrastructure that is also very easy to setup. It is a 'no fluff' Shopify Alternative solution for small business enterprises looking for maximum functionality with the lowest investment. 
The Bottom Line
There are numerous Shopify alternatives in the market. Identifying the best one for you will depend on your unique business model. Like what you hope to achieve, what your skills are, and what your budget allows. 
For the quickest route, DashNex offers a comprehensive eCommerce solution at a very competitive price. It may not have the largest number of payment processors or third-party integrations. But it has all major ones for business growth and expansion. 
All too often, budding entrepreneurs are stuck with decision paralysis from too many choices. DashNex eliminates the excess. All that remains is a lightning-fast eCommerce platform with an impressively high sales rate. You don't have to do a thing.